Deep Throat 3 : Linda untangles her tingle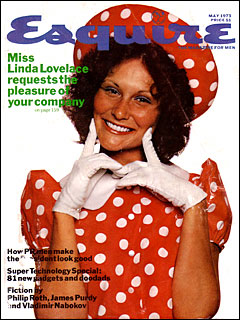 The film opened at the New Mature World Theatre in June 72 with the tagline "How far does a girl have to go to untangle her tingle?" The film wasn't doing very good business when it first opened, it was only when anti-porn protesters and the government stepped in to ban it that the queues started to snake round the block. Even though the Mafia had nothing to do with the film, Families all over the country capitalised on its success by sending their boys out to the theatres and demanded a 50% take of the receipts for the film. If the cinema owners refused, their cinema was burnt down. The CIA estimated that the Mafia made hundreds of million dollars from this strategy.
It was the first time that a porn film ever crossed over to a mainstream audience and everyone from
Jackie Onassis
to
Frank Sinatra
flocked to see it.
Bob Woodward
reporter on
The Washington Post
went to see it on the first run and ended up naming his Watergate informant after the film. The film turned Linda into a celebrity. She moved into
Hugh Hefner's
mansion for a while, introduced
Elton John
before one of his concerts and
Sammy Davis Jr
, got so turned on when he saw the film he tracked down Linda Lovelace and he and his wife had a four-way with Linda and Chuck Traynor.