Bettie Page 2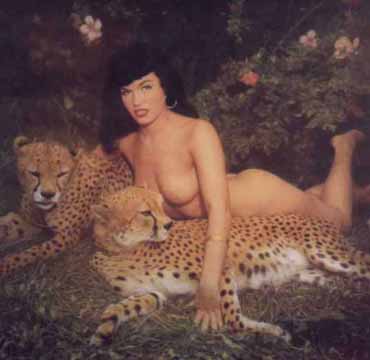 A lot of Betty Page's popularity came from the fact the she alternated between bad girl bondage and the girl next door. She designed all of her bikinis in the photos that appeared in men's magazines like
Playboy
,
Wink
,
Titter
and the innocent-enough-sounding Sunbathing For Health magazine. She also designed the "Jungle Betty" outfit from one of her most famous photo sessions with
Bunny Yeager
, where she posed in a safari park in Florida. In her most famous photos, she had dark circles under her eyes as she had been broken into the night and two of the cheetahs she posed nude with had been vomiting all night. Even though she wasn't personally into bondage herself, her other persona was the "Dark Angel", where she posed with whips and wrestled other girls in underwear for photographer
Irving Klaw
. Then suddenly at the height of her fame, and after rejecting the sexual advances of
Howard Hughes
, she disappeared for nearly four decades.