For Betty or Worse
The multiple personalities of Betty Page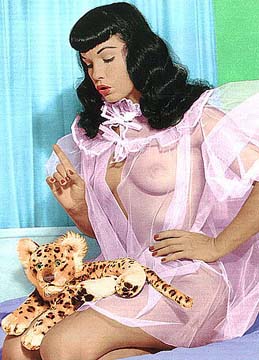 Although she only modelled for seven years in the 1950's,
Betty Page
had more photographs of her taken than
Marilyn Monroe
and
Cindy Crawford
put together. But if you look past the black bangs, and impish smiles in her bondage and cheesecake shots, you'll also see that the world's most famous pin-up had thin lips, a lazy right eye and a high forehead. She learnt all her modelling poses when she was placed in an orphanage in Nashville aged 10, after her father sexually abused her, then knocked up another local teenager. Betty and her sisters used to play a game called "Program" where they would mimic the poses of the movie stars when the colour supplement of the newspaper arrived each Sunday. Her modelling career started when she moved to New York and bumped into an off-duty police officer with a penchant for photography in
Coney Island
. He suggested putting together her first portfolio and told her to cut in her trademark fringe to disguise her forehead. She soon started modelling naked for camera enthusiasts at camera clubs, and it wasn't until biographies of her came out forty years later that she found out that there was often no film in the cameras of the amateur photographers.